Assistant Hydro-geologist (Post Graduate) Recruitment
Address ( पता ): UNION PUBLIC SERVICE COMMISSION, Dholpur House, Shahjahan Road, , New Delhi, Delhi  110069
Minimum Salary ( न्यूनतम वेतन ) : INR Refer to Advertisement
Pay scale ( वेतन ) : INR Refer to Advertisement
Educational requirements ( शैक्षिक आवश्यकता ) :  Master of Science Degree in Geology or Applied Geology or Geo-exploration or Earth Science and Resource Management or Hydro-geology or Master of Technology in Engineering Geology from a recognized University.
Minimum Qualification ( न्यूनतम शैक्षणिक योग्यता ) : Master of Science Degree in Geology or Applied Geology or Geo-exploration or Earth Science and Resource Management or Hydro-geology or Master of Technology in Engineering Geology from a recognized University.
Job posted on : 2019/04/20
Last date to apply for this job ( अंतिम तारीख ) : 2019/05/02
No. of Job Opening ( रिक्तियों की संख्या ) : 01
Job Location : India
Job Category : Bank Clerk
Job Type : Full Time
How to Apply :
Closing Date For Submission Of Online Recruitment Application (Ora) Through Ora Website Is 23:59 Hrs On 02.05.2019.
The Last Date For Printing Of Completely Submitted Online Application Is Upto 23:59 Hrs On 03.05.2019.
Candidates must apply online through the website http://www.upsconline.nic.in . Applications received through any other mode would not be accepted and summarily rejected.
Candidates must upload the following documents/certificates relating to educational qualification, Date of Birth, Experience (preferably in prescribed format), Desirable Qualification(s) or any other information, as claimed in the online application, in a single pdf file in such a way that the file size does not exceed 2 MB and is legible when a printout taken. For that purpose, the applicant may scan the following documents/certificates in 200 dpi grey scale. Documents like Pay Slip, Resume, Appointment Letter, Relieving Letter, Un-signed Experience Certificate, etc.
Note: If any document/ certificate furnished is in a language other than Hindi or English, a transcript of the same duly attested by a Gazetted officer or notary is to be uploaded.
Official Notifications: Official Advertisement Document
---
About Union Public Service Commission – UPSC (संघ लोक सेवा आयोग):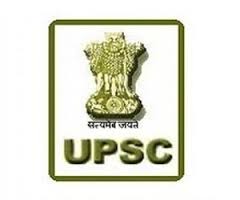 The Union Public Service Commission ( संघ लोक सेवा आयोग ) is India's central agency authorized to conduct the Civil Services Examination, Indian Forest Service examination, Engineering Services Examination, Combined Defence Services Examination, National Defence Academy Examination, Naval Academy Examination, Combined Medical Services Examination, Special Class Railway Apprentice, Indian Economic Service/Indian Statistical Service Examination, Combined Geo-scientist and Geologist Examination, and Central Armed Police Forces(Assistant Commandant) Examination.
Website Address: http://www.upsc.gov.in/
Contact Us:UNION PUBLIC SERVICE COMMISSION, Dholpur House, Shahjahan Road, New Delhi – 110069
Facilitation Counter : 011-23098543 / 23385271 / 23381125 / 23098591
Email : feedback-upsc@gov.in